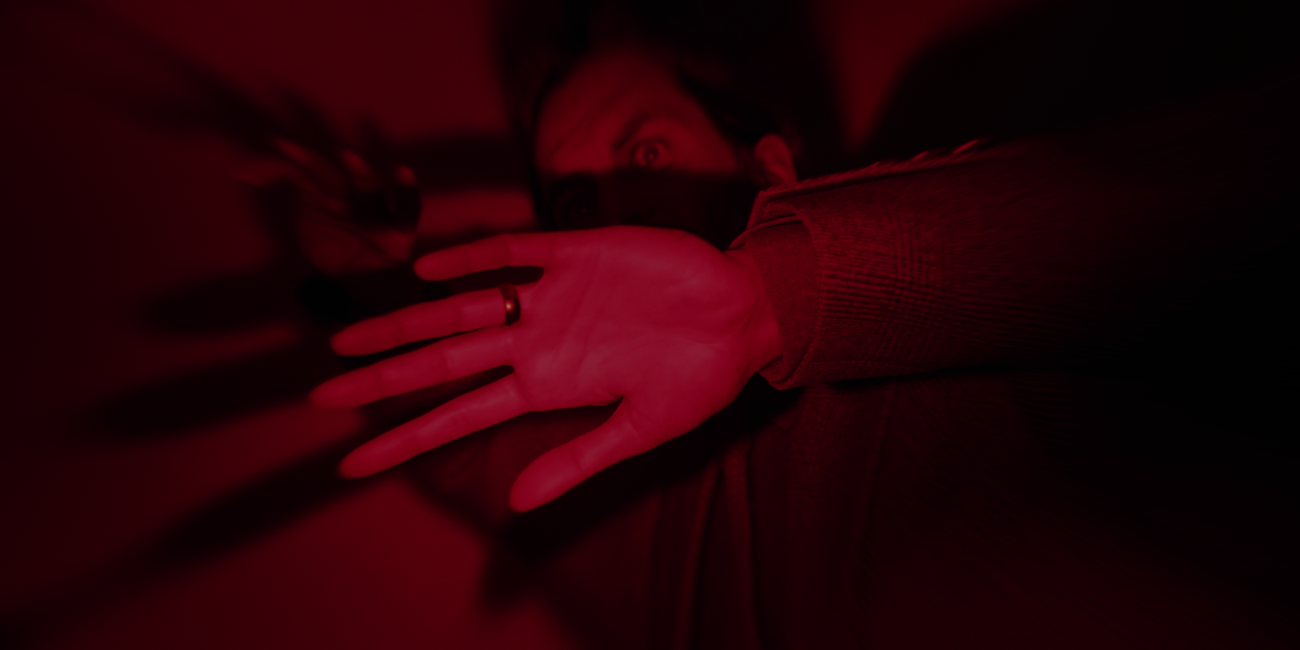 If you run into any issues while playing Alan Wake 2, please go to the Epic Games Player Support page for Alan Wake 2 here to submit a report. 
General Information 
What platforms is Alan Wake 2 available on? 
Alan Wake 2 is available digitally for PC on the Epic Games Store, PlayStation 5, and Xbox Series X|S. 
What different versions of Alan Wake 2 are available? 
Standard Edition: Includes the Alan Wake 2 digital base game. 
Deluxe Edition: Includes the Alan Wake 2 digital base game and the following exclusive content: 
Expansion Pass (Night Springs Expansion and Lake House Expansion)
Nordic Shotgun Skin for Saga (Part of the Expansion Pass)
Parliament Shotgun Skin for Alan
Crimson Windbreaker for Saga
Celebrity Suit for Alan
Lantern Charm for Saga
Pre-order bonuses: 
If you pre-ordered the Standard or Deluxe Edition, you received the following digital pre-order items: 
Ornate Revolver Skin for Alan

 

Survival Resources Pack for Saga

 

Oh Deer Diner Sweater for Saga

 
Where can I find the pre-order costumes and skins in the game? 
The main menu has a "Cosmetics" menu, where you can see and change the costumes and weapon skins. 
What languages and localization does Alan Wake 2 support?  
Subtitles and voice-over (VO)

 

 

English, French, German, Iberian Spanish and Japanese 

 
Subtitles only

 

 

Italian, Latin American Spanish, Brazilian Portuguese, Polish, Russian, Korean, 

Simplified Chinese, Traditional Chinese and Ukrainian. 

 
What is the story of Alan Wake 2? 
Saga Anderson, an FBI profiler with a reputation for solving unsolvable cases, arrives in Bright Falls to investigate a string of ritualistic murders. The case slides into a nightmare when Anderson discovers pages of a horror story, a horror story that starts to come true… 
Alan Wake, a lost writer trapped in a nightmare prison beyond our world, writes a dark story to shape reality in a desperate bid to escape. Hunted by an insatiable horror, Wake struggles to retain his sanity and beat the devil at his own game. 
Anderson and Wake, two heroes on two desperate journeys. Two separate realities connected in ways neither of them can understand. Echoes become reflections. Reflections that can reach out to each other. Trapped in a horror story where there are only victims and monsters, can they break out to be the heroes they need to be? 
Do I have to have played the original Alan Wake to fully understand Alan Wake 2? 
Alan Wake 2 is a sequel but set up as a stand-alone experience. Newcomers can enjoy the thrill-ride with no past knowledge of the previous game. For the returning fans there are tons of lore and connections to be discovered. 
Do I have to play Control or Control's AWE expansion to better understand Alan Wake 2? 
No, you do not. However, for fans who are into the universe of Alan Wake, it's recommended, but it's completely optional. 
What are the difficulty levels available in Alan Wake 2? 
Story –

Combat will not pose a challenge. Focus on mystery-solving and exploration.

 

Normal –

Challenging combat. Using items and conserving resources is required for survival.

 

The game is most tailored and balanced towards this difficulty.

 
Hard –

Significantly challenging combat. Leveraging items and familiarity with game mechanics is essential for survival.

 
Will Alan Wake 2 have post-launch support? 
Yes! We will be supporting Alan Wake 2 post-launch. A New Game+ mode called The Final Draft is coming as well as a Photo mode. Release dates to be determined. 
Two paid expansions
Both of our expansions tell new stories and offer exciting gameplay within Alan Wake 2. 
Expansion 1 – Night Springs 

 
Visions and dreams. Fiction is written and coming true. Fiction collapses and remains just words on a page. These are those stories… in Night Springs.  

 
Play as several familiar characters from the world of Alan Wake and experience the unexplainable in multiple self-contained episodes of Night Springs, a fictional tv-show set in the world of Alan Wake. 

 
Expansion 2 – The Lake House 

 
The Lake House is a mysterious facility situated on the shores of Cauldron Lake set up by an independent government organization to conduct secret research… until something goes wrong.  

 

Explore the Lake House and embark on two separate adventures as the realities of Saga Anderson and Alan Wake collide again.

 
What is the story of the first Alan Wake? 
Glad you asked. Take a look at a "Previously on video" here. 
Thirteen years ago, Alan Wake, a bestselling writer, together with Alice Wake, his photographer wife, came to idyllic Bright Falls, a Pacific Northwest small-town, for a vacation to fix their marriage and overcome his writer's block. 
There is an opening to the Dark Place, a nightmare reality, under Cauldron Lake. With Alice held hostage by a supernatural entity called the Dark Presence, Wake was forced to write a horror story to set the Dark Presence free. The Dark Place has the power to make fiction come true and rewrite reality. The Dark Presence infected numerous people and turned them into murderous Taken. 
Using light as his weapon, Wake fought the Taken. He found a way to write a new ending to the story to destroy the Dark Presence. He rescued Alice but was himself trapped in the Dark Place. 
What is Alan Wake Remastered? 
Alan Wake Remastered is a (wait for it) remastered version of the original Alan Wake (2012 PC version). For fans of the original, it's a new refreshing experience of the game they love. For newcomers, it's a great way to experience the classic Alan Wake on new platforms taking advantage of next-generation technology. 
The remastered version contains the original game as well as The Signal and The Writer DLCs, which were originally sold separately, but are part of the Alan Wake Remastered package. The main game contains a brand-new developer commentary track from game's writer and Creative Director Sam Lake that fans will not want to miss. 
Why is Alan Wake 2 a digital-only release? 
There are many reasons for this. For one, many players have shifted to digital only. You can buy a Sony PlayStation 5 without a disc drive and Microsoft's Xbox Series S is a digital only console. It is not uncommon to release modern games as digital-only. 
Secondly, not releasing a disc helps keep the price of the game at $59.99 / €59.99 and the PC version at $49.99 / €49.99. 
Finally, we did not want to ship a disc product and have it require a download for the game — we do not think this would make for a great experience either. 
Is there a disc-based version of Alan Wake 2? 
There are currently no plans to release Alan Wake 2 on disc. 
Technical 
What are the download sizes of Alan Wake 2? 
PlayStation 5: 85GB
Xbox Series: 82GB
PC: 86GB
Does Alan Wake 2 support High Dynamic Range (HDR)? 
Yes.  
Can I hide the HUD? 
Yes. 
Does Alan Wake 2 support FSR2 and DLSS? 
Yes. 
Alan Wake 2 audio supports: 
Stereo, 5.1, 7.1 Dolby Atmos, 3D Audio (PlayStation 5) and DTSX. 
Is there a performance mode on consoles?  
Alan Wake 2 has a Performance (prioritizing framerate) and Quality (prioritizing resolution and graphical effects) modes PlayStation 5 and Xbox Series X. There is no Performance mode on Xbox Series S.  
PlayStation 5-specific features 
Activity Cards (track mission progression)

 

Game Help is supported

 

DualSense

 
Trigger Feedback implementation

 

Vibration implementation

 
(DualSense also supported on PC)

 
PC Specific 
Please make sure you have the latest relevant drivers for your hardware! For Nvidia graphics cards that is Nvidia 545.84 drivers or newer. 
What are the PC minimum / recommended specs for Alan Wake 2?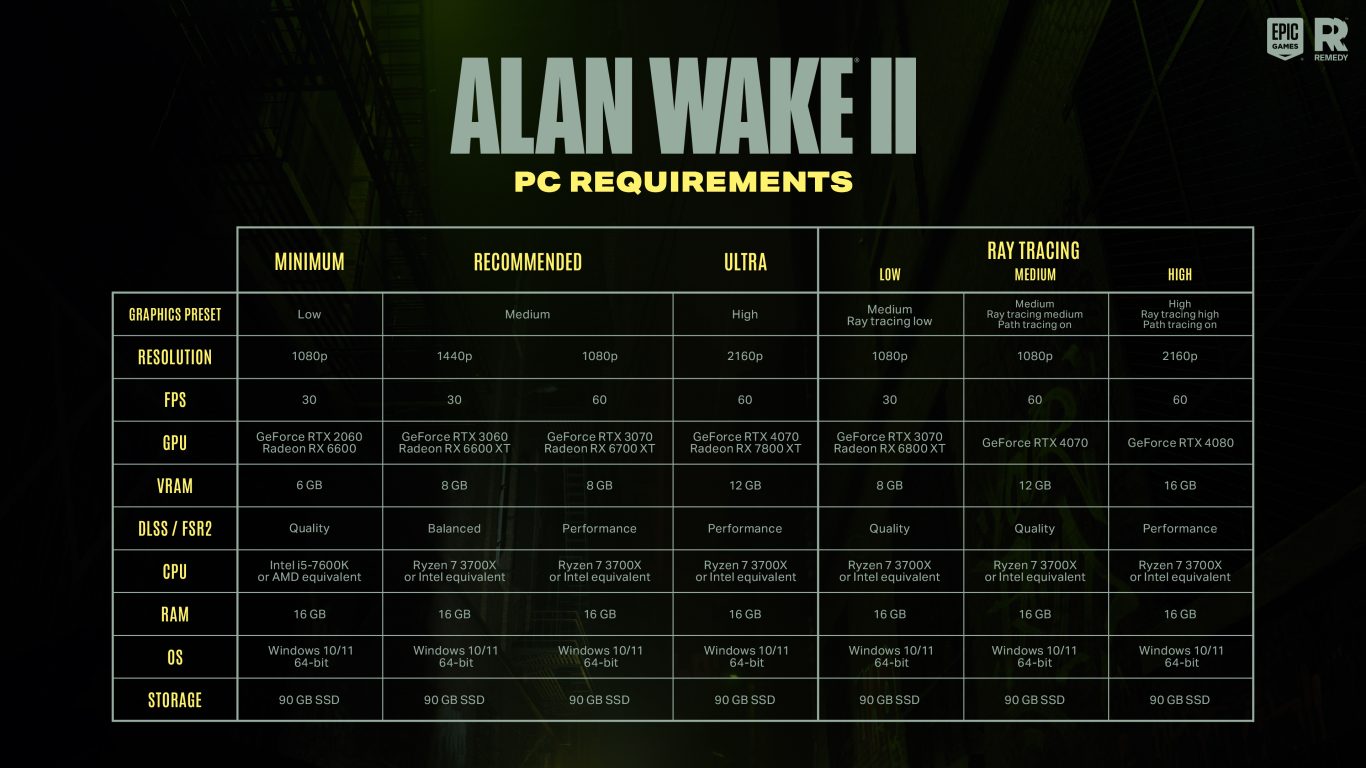 Alan Wake 2 requires an SSD. 
Is there Ultra-wide screen support? 
Yes, 21:9 aspect ratio. 
What display modes are supported? 
Full screen, window, and borderless modes. 
Is there a FOV slider in Alan Wake 2? 
No. 
On what hardware will full ray tracing / path tracing be supported?  
Full ray tracing / path tracing is supported on all DirectX 12 GPUs supporting hardware accelerated ray tracing via DXR. Since full ray tracing is a very GPU-intensive form of ray tracing, we recommend a GeForce RTX 40 series GPU and NVIDIA DLSS 3.5.  
Different quality settings will be offered to allow the gamers to adjust the visuals & performance according to their exact hardware configuration.   
On what hardware will the new DLSS Ray Reconstruction be supported on?   
DLSS Ray Reconstruction is supported on all NVIDIA RTX GPUs. 
What game engine is Alan Wake 2 running on? 
Alan Wake 2 uses Remedy's Northlight engine. 
Northlight is a focused, state-of-the-art game engine and toolset developed by Remedy Entertainment, empowering our games now and in the future. 
Northlight's plugin-based tools framework and adoption of USD (Universal Scene Description) enable our game development teams to customize their tools and content pipelines to suit their needs. The game runtime is aimed to perform well with ever-expanding virtual game worlds by having a modern and efficient game object model and a GPU-based geometry rendering pipeline. 
We strongly believe in the freedom of developing our in-house technology with selected partners, ensuring we control our entire tech stack. Our creative and technology teams closely collaborate to create features that get players excited and make Remedy's games stand out from the crowd.